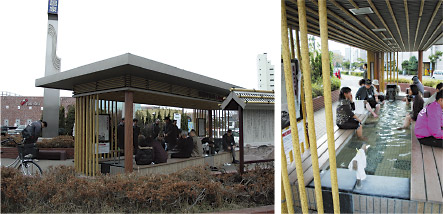 Ashiyu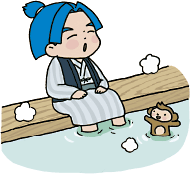 "Yumeguri Butai" is the name of ashiyu footbaths located right in front of the "Yunokawa Onsen" streetcar stop. It is a sodium-calcium-chloride spring as far as mineral content is concerned. Many citizens and tourists visit this popular spot after enjoying a walk while waiting for the streetcar. The roofed footbaths allows visitor a leisurely time, even on rainy or snowy days without having to worry about the weather. Open daily throughout the year from 9:00 a.m. to 9:00 p.m. Please bring your own towel to wipe your feet after bathing.
●Address: 1-16-5 Yukawacho, Hakodate
●Inquiries: 0138-57-8988 (Hakodate Yunokawa Hot Springs Ryokan Cooperative)
Hot Springs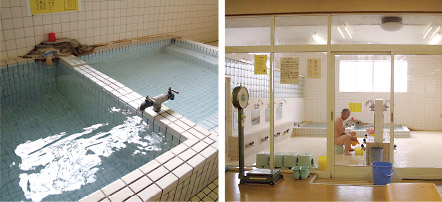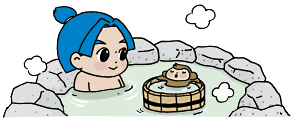 Hot springs in Yunokawa, which have long been loved by many people for the high spring quality, boast a huge volume of gushing water (currently more than 7,000 ton a day). During the Hakodate War, Takeaki Enomoto brought injured soldiers to this spring for hot-spring treatment and also to bathe himself. There are also several public bathhouses in this hot spring area which are highly praised by many onsen lovers for being really "hot" baths.
Former Toi Line(Ryokuen-dori)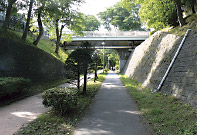 This train line was originally planned for military use, but construction was interrupted because of the worsening state of the war, and was not resumed thereafter. On the west side of this phantom railroad a sideway and bike lane were created, and people can enjoy walking and cycling alongside the remnant rail track.
Yukawa Black Pine Forest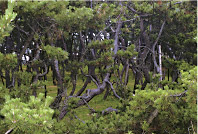 This black pine forest is Hokkaido's first shelterbelt, which also serves the function of preventing sand shifts. It was Kumashiro Watanabe the First, a wealthy merchant in Hakodate, who planted these trees he had paid himself. He bought a property near his house and had 200,000 nursery trees sent from his hometown Numazu in Shizuoka Prefecture. The forestation was completed in 1889 after more than ten years of hard work. About 900 black pine trees remain here today.
●Address: 1-7-55 Yukawacho, Hakodate
Kosetsuen Garden
This garden was created by the Iwafune family, a wealthy merchant family in Hakodate, around 1898, and was turned into an authentic Japanese garden in 1920 by a gardener from Kyoto. In 2001 Kosetsuen became the first garden in Hokkaido to be designated by the Japanese Government as a garden of scenic beauty. There are some 150 species of maples and other garden trees – the largest number of tree species planted in a single garden in Hokkaido. These trees change their appearance from season to season; cherry blossoms in spring and autumn leaves are especially fascinating. During an autumnal event held annually inside the garden, visitors can fully enjoy the fantastic, dazzling view of crimson foliage in this beautifully illuminated garden. This garden also has a brick greenhouse and traditional Japanese-style residential architecture with a tearoom. No wonder it has been loved by local citizens as a place of comfort with many attractions.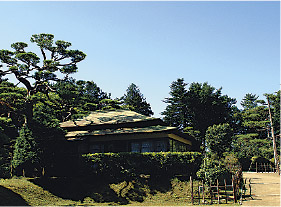 ●Address: 56 Miharashicho, Hakodate
●Inquiries: 0138-57-7210
(Administration Office)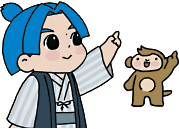 Shinoritate Castle Ruins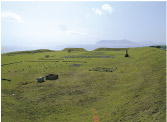 Walk about 3 km to the east from Yunokawa, and you will find the officially designated historical site Shinoritate Castle Ruins. Three large jars containing as many as 380,000 old coins in total were unearthed from this site. The hilltop offers a panoramic view of the Tsugaru Strait, with Hakodate and the Shimokaigan coast close by, and Matsumae and Shimokita peninsulas in the distance.
●Address: Shinoricho, Hakodate
●Inquiries: 0138-21-3463 (Cultural Assets Section, Lifelong Learning Division, Hakodate Board of Education)
Sport facilities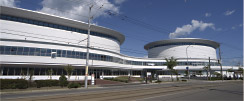 The multipurpose facility Hakodate Arena, which was opened in August 2015 at a location easily accessible from Hakodate Airport, is equipped with modern facilities. There are a main arena with a capacity of 5,000 people, a sub-arena, a gymnasium and multipurpose meeting rooms. This facility does not only serve as a base for indoor sports where Hakodate citizens can enjoy sports to remain fit, but also as a venue for large-scale and professional sport competitions, concerts, conventions and other events that have never been held in southern Hokkaido before, due to the lack of suitable facilities. In late July 2015, the popular rock band GLAY, whose members hail from Hakodate, performed here in an opening event. Nearby the arena there are other well-equipped sports facilities, including a rugby field and a football park that opened around the same time as Hakodate Arena.
●Address: 2-2 Yukawacho, Hakodate
●Inquiries: 0138-57-3141
Enjoy a stroll and a tea break with snacks.

After strolling around the street, it's a nice idea to take a rest and enjoy delicious snacks. Established sweets shops that have preserved antique flavors and confectionaries stand side by side in Yunokawa and are visited by many people who come to try their famous products. The skewered dumplings (sesame, soy sauce and bean paste flavors) of Yakidango Gingetsu feature a stretchy texture, and have long been a favorite, both among local residents and tourists. Coffee Room Kikuchi and Kissa Cherry are popular for their light-tasting soft-serve ice cream. Yunokawa Hot Spring Resort gives visitors the opportunity to enjoy both quaint streetscapes and renowned gourmet food.
Trappistine Convent
This convent was established in 1898 as Japan's first contemplative convent by eight nuns dispatched from France. The present holy shrine was rebuilt in 1927. Brick outer walls, round-arched windows and other Gothic and Romanesque elements are mixed in the impressive architecture. Visitors are allowed to enter the front garden and the material room where the daily lives of nuns who live there and the history of the convents are introduced. Across the convent is Citizens' Forest in Citizens' Park, a place where the natural magnificence of Hokkaido can be enjoyed. Inside the park you can find places like Picnic Hill, Miharashi Hill, and White Arums Forest Trail. Don't miss the view of Ajisai (hydrangea) Field in early summer.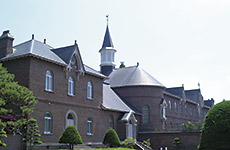 Trappistine Convent
●Address: 346 Yukawacho, Hakodate
●Inquiries: 0138-57-2839
Citizens' Forest
●Address:
327-1 Yukawacho, Hakodate
●Inquiries: 0138-59-4472
(Administration Office)
Hakodate Tropical Botanical Garden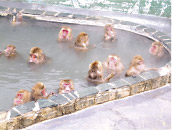 Some 3,000 exotic tropical plants of 300 different species grow in the polygonal garden. You can find unique flower and tree species from the South, including "Ice Cream Tree" and "Sausage Tree." From December through the Golden Week holiday season in May, you can also meet Japanese monkeys taking a leisurely dip in the hot springs outside Monkey Mountain, a popular spot among children. This botanical garden is a nice place to have an enjoyable time with your family and friends.
●Address: 3-1-15 Yukawacho, Hakodate
●Inquiries: 0138-57-7833

Yunokawa Hot Spring Resort Fireworks Display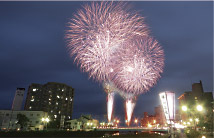 Fireworks that are set off from the Matsukura River downstream basin colorfully adorn the August sky in combination with the fishing lamps of squid-fishing vessels offshore in the Tsugaru Strait.

●Venue: Matsukura River downstream basin
●Inquiries: 0138-57-8988 (Hakodate Yunokawa Hot Springs Ryokan Cooperative)
Yukura Shrine
(the birthplace of Yunokawa hot springs)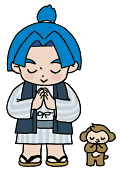 Some 560 years ago, a logger who was taking a rest on a hill (now the precinct of Yukura Shrine) noticed vapor rising from a hot spring right in front of him and found the source. Sometime later, his arm was injured by disease. Remembering the hot spring he had found, he went there for treatment. He soon recovered. In appreciation he carved a Yakushi statue and built a shrine for it. This is the origin of Yukawa Shrine and Yunokawa hot springs. This shrine is dedicated to the Oonakamuchinokami and Sukunahikonanokami deities who are said to have created and governed Japan. These deities are known for their unlimited power to offer divine benefits, including bumper crops, household safety, health and longevity, as well as matchmaking, conjugal affection, safe childbirth and children's growth. This shrine has long been loved by many local residents as their source of peace. The precinct has many places and things to see, including the monument as the birthplace of Yunokawa hot springs, a sacred yew tree that is the oldest tree in Yunokawa, the Musubi (matchmaking) ginkgo and the big Yukura ginkgo, the Nadeusagi sacred rabbit and the Kaiun (lucky) gavel. Experience the history of Yunokawa in an awe-inspiring atmosphere.
●Address: 2-28-1 Yukawacho, Hakodate
●Inquiries: 0138-57-8282